The Kinross Carriageworks, Stirling 1802-1966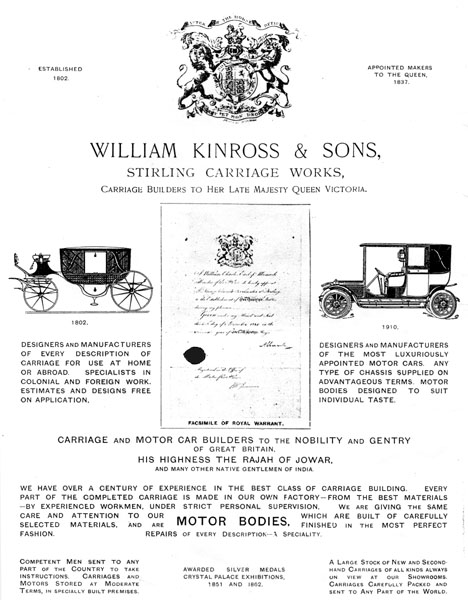 A William Kinross & Sons advertisement from 1910
showing the Royal Warrant.
"From the mid 18th Century, Stirling became one of the principle centres of Coach Building in Great Britain. In 1865 the Bastion housed a forge as part of Kinross's famous Carriage Works. The first two-seated gig in Scotland was made by William Kinross & Sons, Appointed Carriage Builders to Her Majesty Queen Victoria. Horse Carriage trade developed to Motor-Driven Vehicles and by 1910 'the more luxuriously appointed motor cars' were sold at the new showroom on Port Street."
From an inscription in the Bastion within the Thistle Shopping Centre, Stirling.

Please email me with your comments.
This site was last updated on 19th September 2017.
---
---